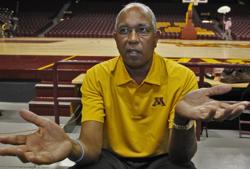 The talent is there, and now its time for Tubby Smith to shape it into a top tier Big Ten team.
The 2012-13 basketball season is officially underway. The Gophers will begin a stretch of two-a-day practices Saturday morning but thousands of Golden Gopher fans showed up Friday night for the second annual "Gopher All-Star Friday Night" and they went home impressed.

The night got underway with the introduction of the men's and women's teams as well as our very own Homecoming Royalty - head coaches Tubby Smith and Pam Borton. Following the introductions, the coaches, along with help from the teams, showed the crowd their own version of the very popular "Gangum Style".

Then came the hoops. The Williams Arena crowd watched Gopher alumni Blake Hoffarber put on a show in dominating the alumni version of the two-ball competition - teamed with another former sharp shooter Kevin Lynch - and the three-point competition. He is the program's all-time leader in three-point field goals made and fourth all-time in percentage.

Current players Oto Osenieks and Kionna Kellogg teamed up and won the two-ball competition over Mo Walker and Katie Loberg. Then senior Julian Welch reminded everyone that he was the team's best long-range shooter from last season in defeating Andre Hollins in the three-point competition.

The dunk contest was the deepest competition of the evening. Joe Coleman came into the event as the reigning champion but another former champion, Rodney Williams, was also in the field. The duo battled freshman leapers Charles Buggs and Wally Ellenson but Williams outlasted all three to gain his second title in four seasons.

The Gophers open the 2012-13 schedule on Friday, Nov. 9 against American University at Williams Arena. The game is scheduled to tip at 7:00 p.m. Minnesota will also host a pair of exhibition games, Nov. 1 vs. Minnesota State, Mankato and Nov. 5 vs. Southwest Baptist. Both games are set to tip at 7:00 p.m.